Last year I closed my art commissions, a vivid toy collector named Nick waited for me patiently. I already wrote his name down in my commission list. In In February 2009, I was free and I posted my personal birthday comic on my blog, he asked me "don't think you'll be opened for commissions anytime soo
n? *fingers crossed*" I thought, "OHHH I REMEMBER! He's my next client!"
Nick and I started discussing about art commission. He gave me two different options which I wanted: Custom toy OR Painting. I knew that h
e's a t
oy addict plus this is my first custom toy. So I said "Ok! Custom toy! I'm interested with that!" Regarding the idea and theme, Nick liked the "mystical, dreamy and full of surprises" thing and he didn't have concrete ones. But he shared his thought with me about the "all-around painting", just like The Garden of Earthly Delights by Hieronymus Bosch. So, I was super impressed.
I made rough sketches and Nick already liked it. I was primin

g, sculpting, sanding, texturing elements, painting... The Mellow toy is about 8"

inches. My materials were acrylics, colored pencils, clay, resin and other few secret weapons, hehe. Here is my art progress.
The title is The Midnight Garden of Great Owl. Let me share my little story with you guys. At the midnight time, Great Owl wakes up and transfor

ms his feathery chest into his mysterious garden. He allows any innocent creatures

to live in his garden. He always watches over his own garden and good friends from evils and demons. When the sunrise starts, Great Owl goes back to his feathery look and falls asleep for regaining his strength. Please click to full view the full photo collage below.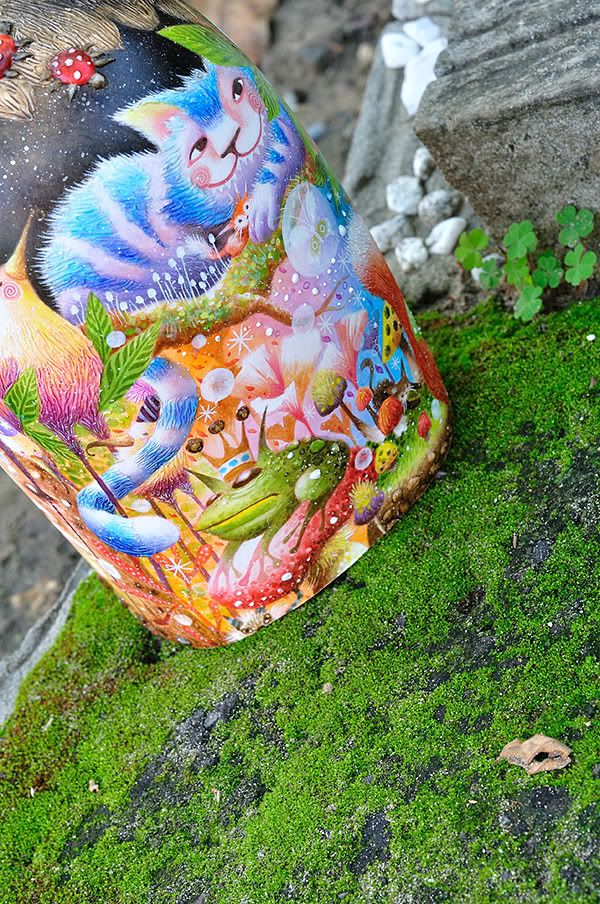 I also made an original drawing.
Sigh, I still miss my Great Owl. He reminds me of Wilson, who is a bloodied quiet volleyball, bestfriend and companion of Chuck Noland (Tom Hawks) from the movie Castaway. I kept singing for him, talking to him and looking at his big eyes while working on him. If Great Owl misses me, hopefully he could fly to me, hehehe!
It's Nick's fault, I'm now digging on vinyl toys / custom toys, haha! Nick, I really enjoyed working it with you. Thank you for everything! Please take care of my owl!
COMMISSIONS / SHOWS


Regarding my reserved seven art commissions, I hold on this time. Because I need to work on my new pieces for the upcoming art show in USA first. Don't worry, I'll definitely continue working on my commissions for another time. Thank you for your understanding and patience, my fellow clients.

And sneak peek, I'll post my few new works for the art group show, "If I were a monster... " in Manila this month.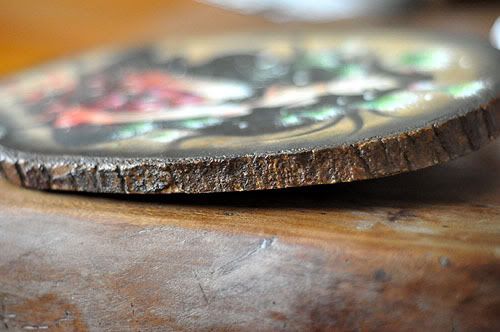 I continue working on my new pieces for the upcoming art show in Nucleus Gallery, I'm so excited!

Okay, bedtime for me! Miss you guys! I'll reply to all of you in my previous blog entries!