Hello everyone, I'm back here in my beloved peaceful province La Union. I want to thank you all for the wonderful comments and greetings. I'm so grateful. I'm so sorry for not replying to all of you because of my crazy hectic schedule.
For my clients who emailed me about making art commissions, I'm so sorry, I'm not available this time. I need to take more rest. I'll be open for the art commissions on 2009. Thanks for understanding me!
It's time to tell you my story about my project. Past few months ago,
BBDO Guerrero
was trying to find the three Filipino artists for the "Live Your Dreams" campaign, The Philippine Department of Tourism. They chose me for the beach theme,
Luis Lorenzana
for the nature theme and
Dexter Fernandez
for the nightlife theme. The project was quite interesting.
I started sketching my first rough sketch for the full painting like 4ft by 4ft (48" X 48") according to BBDO's request.

But BBDO asked me to cancel the big one. They requested me to add more serious complex elements and textures like Where's Waldo and make two separated pieces for the vertical and horizontal format.


I was painting the vertical piece for 3 weeks and then, the horizontal one for 2 weeks. The size was 3 ft by 4 ft (36" x 48") and the medium was acrylics and colored pencils on wood. I also made the handwriting font. About the revisions, the dream girl's hair color and cave have been changed according to BBDO's requests.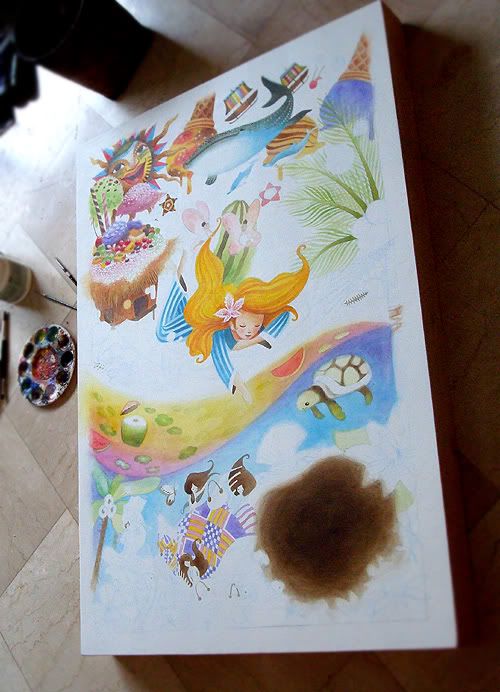 I like the vertical one better than horizontal one, hehehe. Honestly, I felt incomplete with my horizontal piece because of the few textures and elements. I mean, I lost my focus on my art when I was hurried to finish the painting before the deadline. But it's okay, at least my mission accomplished. Hooray!
BBDO David Guerrero, Art Directors Danielle Lim, Joel Limchoc and others are truly amazingly intelligent, talented, hardworking, cool and wonderful! I was in awe with their brilliance, creative and intelligence so I really liked their ideas and concepts for the "Live Your Dreams" campaign. Tee hee, i took few pictures of BBDO Guerrero team quietly when I was with them.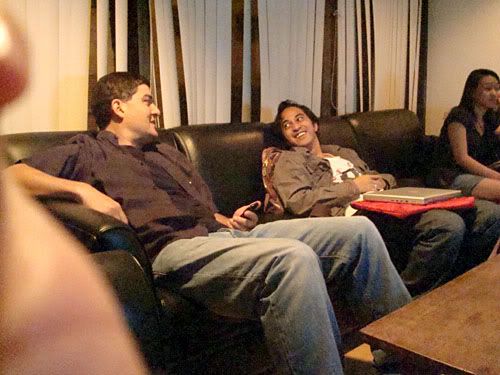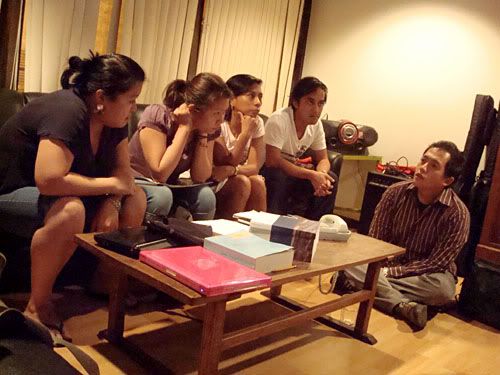 In my personal opinion, BBDO gave me more serious retakes and requests, it made me realized that I shouldn't complain. Because I think it was so great to improve my art skills and learn new things. Plus their requests and critics were perfectly good. BBDO, thank you very much for everything! You guys are so amazing! WORK WORK WORK!
Anyway, I would like to feature my fellow great talented fabulous p
ainters: This is Luis Lorenzana's painting for the nature theme of the "Live Your Dreams". I'm in awe with his very surrealistic painting. I love his delicious colors! He has numerous exhibits and awards! Please check his dark paintings, murals, shoes, toys and sculptures on his
Multiply site out!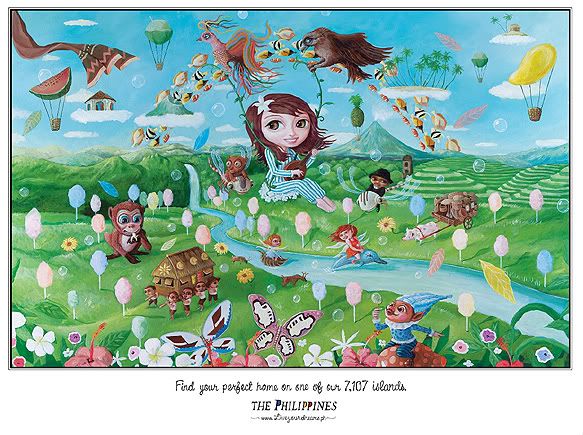 And here's the vivid amazing painting for the nightlife theme of
Dexter Fernandez
. I adore his fresh style! He does graffiti walls, customized designs for the Jansport bags, shirts, more! He has his
DeviantART gallery
, visit him!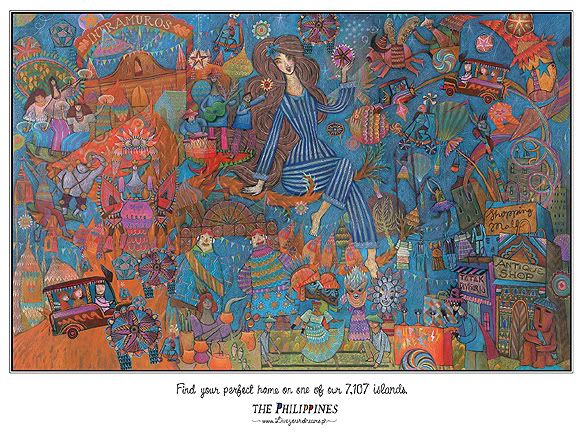 The print ads of the campaign have been featured in advertising like brochures, posters, billboards, more and international magazines: Times Magazine, The Economist, Forbes and News Week. And here's a media feature from Brand Republic.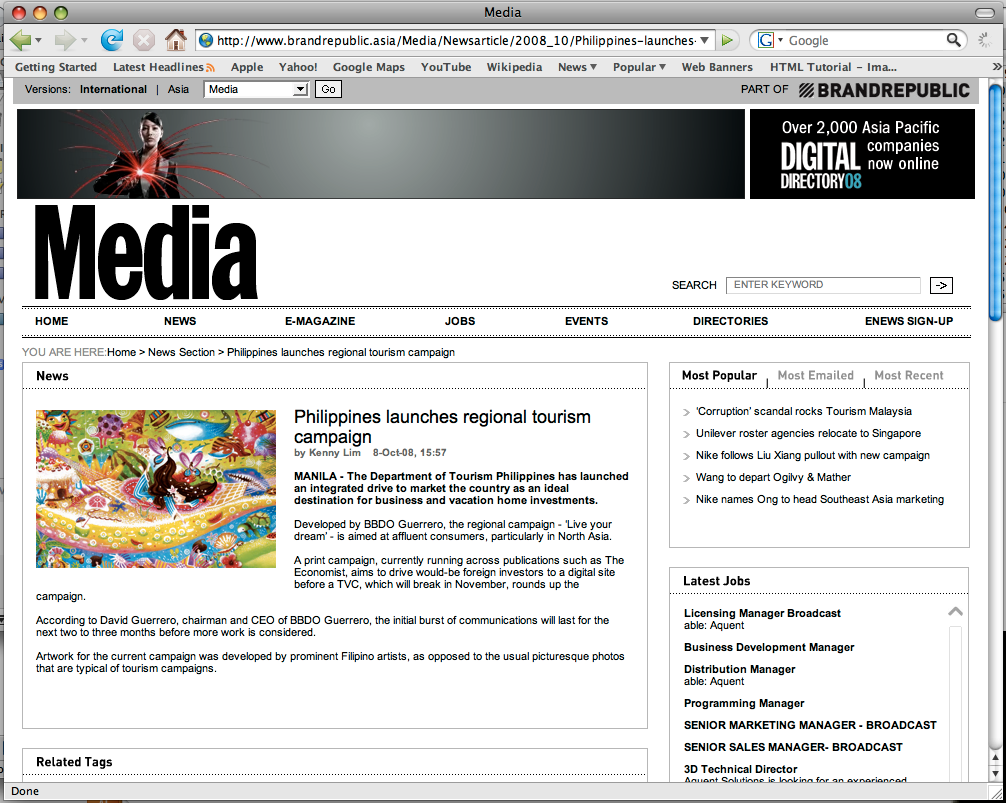 From the ClickTheCity.com, it says:
"

The Live Your Dream campaign has just had its first overseas run through the DOT pavilion in the recently concluded International and Property and Investment Show (IPIS 2008) held in Seoul, South Korea's largest exhibition venue, the Convention & Exhibition Center or COEX. The Philippines was just one of 14 countries where the exhibition's 70 participating real es

tate & property, hotel & resort, and construction & property management companies have come from.

"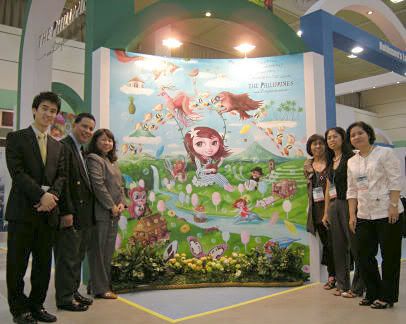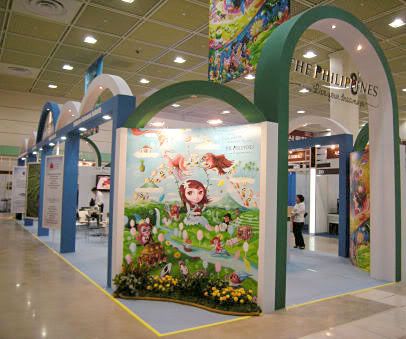 BBDO finally chose me to make an animated TV commercial for the "Live Your Dreams campaign. I'll post my animated video after it will be released in Tokyo, Japan.

Tomorrow, I'll meet my deaf friends in SPED and I'll be an art judge for their local art poster contest there. I'm so excited to watch them painting their entries. See you guys!