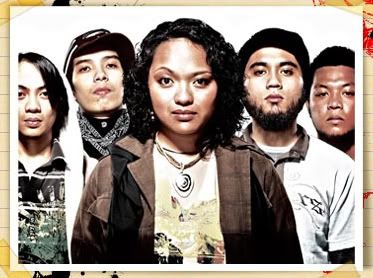 Even
from left to right: Jerich Mojica (drums), Jam Bumanlag (guitarist), Dyanne Licudine (vocalist), Mark Saupan (bassist), Gerald Guerrero (samplist)

On the death of my grandfather Pops, my young first cousin Dyanne and her band mates won the Grand Champion in 2008 Red Horse Muziklaban! They receive

1 million pesos in cash and a rock album contract, and also on a road as an endorser and brand promoter for Red Horse Beer. However, Dyanne was sad and shocked about Lolo's death. But she believes that Lolo Pops was so happy for her and proud of her.
Dyanne already resigned her recent job as a Philosophy professor at the Saint Louis University, Baguio City and now she and her band mates are going to be Rock Stars! High fives girl! Congratulations, Even!
Last December 1, they visited Lolo's burial in La Union. Aww, they were so sweet and they really enjoyed spending time with us. Dyanne, my sister Erica and I taught them how to play crazy mahjong. So I took photos of them except me, hehehe.
That's me and Dyanne. This old photo was taken by my dad. She's quite cool, wonderful, witty, funny, hilarious, talented and intelligent. She's only 22 years old! We are very very proud of her! We love and support you, girl! Kudos!