BRRrrrrrrrr.... I thought typhoon "Pepeng" disappeared. Yesterday, we got floods because heavy rains didn't stop from 5 p.m - 6 a.m. Then we got no 24-hour electricity, eeep. The flood length of the lower house ground floor (stock / junk room) is about 8 feet, it's like a swimming pool. The flood length of the first ground floor (garden, cement ground)is about thigh length. At least we're okay now, but still, the floods hasn't ended yet. I took few pictures today, my feet were super cold. It's still super cold here in La Union, just like Baguio City.
This is my living room. Oh no, my family portrait mural painting is already cracked and dirty. Maybe in the future, I'll create a new mural painting...
Hi! It's me, Mally! Aiyah, my feet is damn cold... Glad my Nikon dslr is okay. Believe it or not, I haven't taken a bath for two days. We have no water until now, hu hu. Dang, I smell so stinky. I wanted to swim in my beach... but I can't, big seawaves might attack me!
Tsk tsk tsk, my old bigger paintings are already wet. I don't worry about them, I don't like my past works, hehehe... *Mall admits and blushes*
My garden got floods, hu hu hu! So I keep my terra-cotta pig sculptures in my room.
Oh no, I found a new kitten! AWWWWW! Poor kitten. My sister Erica takes care of her. We haven't named her yet.
I'm still worried about my friends especially fellow artists from Baguio City and Pangasinan, I really hope and pray that they will be okay. Please pray for Filipino victims. Sorry, I was so late to inform you guys about the October art group show which I'm participating with great artists, "Ghosts and other Transparencies" in
Snowmonkey's House of Monsters Gallery
, Seattle, USA. The art show is now open, it runs through November 10. Hope you guys visit there!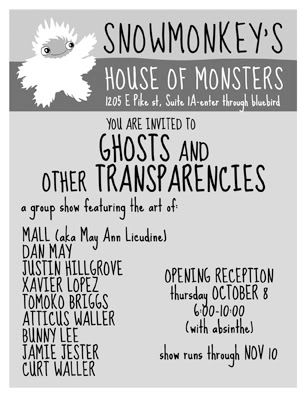 This is my old sketch. But I changed it for revision, it looks better than one.
Graphite & Oil Pastels on Wood
*I can't remember what the exact measurement*
I love to do a vintage-mood style artwork. If you want to buy my new piece, please contact Curt curt.waller@comcast.net
 . I got more emails / comments, eepp. I'll try to do my best, I hope my net could be faster so I could reply to all of you soon. Thank you for understanding! Anyway, I have to sleep now. I didn't sleep for 24-hour 'coz of the typhoon... yeah, I kept alert during typhoon. @_@ Goodnight my people! ZZZzzzzz.....