I really want to thank all of you for greeting me & joining my birthday giveaway, much appreciated! Your comments really made my day. Honestly, I enjoy re-reading your lovely comments many times, haha! *me happy* Okay, I am announcing the 4 winners, here are the results!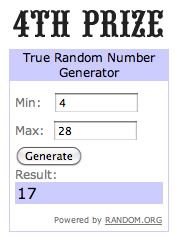 Congratulations, winners (i'll contact you guys soon)! No worries, I'll make my birthday giveaway next year. I love you all! Thank you very much!
March 3 - 24, 2012

Opening Reception / March 3, 7:00PM - 11:00PM




With his iconic characters, charming narratives and whimsical illustrations, Dr. Seuss has undoubtedly become one of the most renowned children's book writer and illustrator. His books, The Cat in the Hat", "Horton Hears a Who" and many others, have become timeless classics, influencing generations upon generations of young readers through their imaginative characters, whimsical narratives and intricate rhymes. To celebrate his achievements, Nucleus is proud to present an exhibition featuring over 40 artists paying homage to the visionary through their own interpretations and re-enivisionings. Find out more about this event here.
When I was young, I discovered the famous book, "The Cat in the Hat". I like his style especially elaborated colors / elements and bizarre imagination. I was quite happy to participate the Dr. Seuss Tribute show so here are my two contributions.
My favorite one is "Oh The Places You'll Go". I like this, watch this.
My spontaneous idea: I combined all places, characters and elements of "Oh, The Places You'll Go" into the whole map. Just like a treasure map. Then I added an extra character " The Cat in the Hat " in it so you find him. That's why I got inspired by Where's Waldo. Indeed, The Cat in the Hat reminds me of Waldo.
When my painting was done, my eyes were painfully hurt because of many details and " hypnotic " colors.
Oh, Where's The Cat in the Hat?
Acrylic & Colored Pencil on Paper
Click to view a large image of my full painting. Have you found the Cat in the Hat? I bet you did.
Here's my 2nd contribution, Thing 1 and Thing 2. Yep, I made another 3D piece. I added the little kitten... that's The Cat in the Hat, hihi! Click to view a larger image of my clay progress.
After I added bold lines & used varnish spray. TA-DAH!
Epoxy, Resin, Pumice, Acrylic & Colored Pencil on Wood
Now Gallery Nucleus releases giclee prints of my original painting "Oh, Where's the Cat in the Hat?". It's $30 and measures 13" x 19" inches. This print would be perfect for your kid's room, art collection and gift! If you're in Los Angeles, California, don't forget to attend the opening Dr.Seuss tribute show at Gallery Nucleus today! Happy Birthday, Dr.Seuss!
Currently, I'm super busy in working on my pieces for the upcoming 2-person show. I might be inactive & quiet for few months so I need to finish painting them. Forgive me, I'm sometimes slow at replying to hundreds of comments / emails during my workaholic days. Wait for my responses patiently. Hopefully, I might visit States this year for my 2nd US trip & 2-person show, so I'd love to meet lovely people, artists, fans, friends and Gallery Nucleus peepz in real life ( but I'm a shy person hehe! ). let's see, let's see. * fingercrossed * Here's one of my sneak peeks.