I would like to thank you very much for the Startdrawing.org, Stumbleupon / Livejournal people and others, who featured me and my art again. You guys made my day, thanks a million.
Here's my next drawing on "Fear". I think it was a little bit hard to add more details in the background but I enjoyed doing this. About fear... I am sometimes afraid of failing job, my health problems, betrayal, family problems, losing my loved ones/friends, etc. My greatest fear is death, of course. All I can say is I should face the trials, troubles and problems and my heart should keep strong. Click this photo to full view.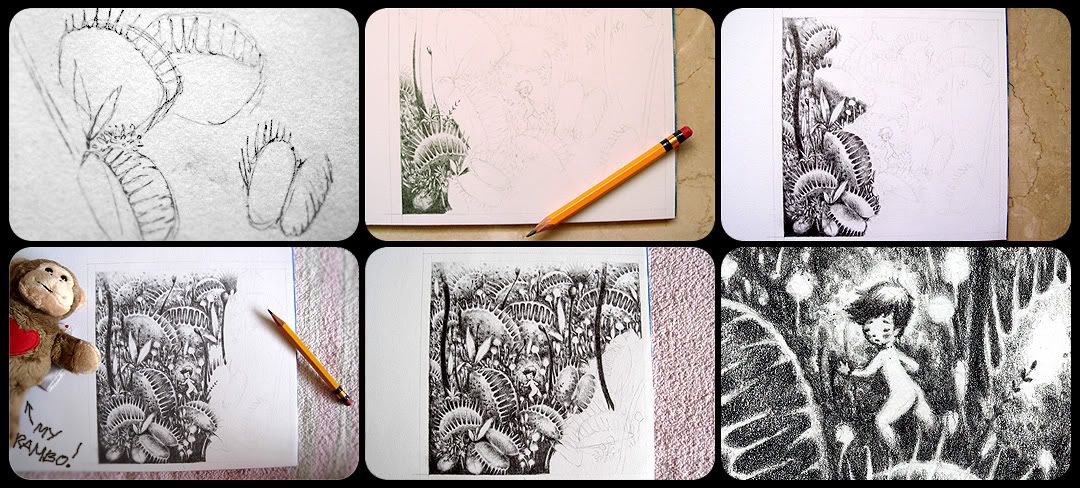 And... Oh, that's my ass... (*

Mall pauses and wonders what online readers could think about her ass. Mall turns away and her shy freckled cheeks start blushing... Then she laughs out loud.

*) Ohhahahehehehehe.... Oh well, I'm sure those crazy venus flytraps could bite my ass.... Or possibly, I could give my cute fart to them so they go away from me. Nyahahaha... (*

Mall sweats and grins sarcastically.

*)
Okay, I have to work now. I'll be posting my finished bw drawings and coloured illustration for my art trade with Annax next month.

Ingats po lagi!

(Take care always!)



P.S.

For Annax: I haven't prepared my parcel yet, dear. No worries, I'll send you this on May. Hope you like it!