Uhm, I think I'm not good at explaining here. I really hope my English grammar will get improved. Last month, I started making my personal black and white drawings (series) for my art diary through my depression. It's all about my life: my feelings, dislikes, favorites, problems, dreams, nightmares, desires, fears, more. I let these pictures tell you a story. It's good to express my feelings and thoughts to all of you.
The medium is Mongol lead pencil on sketchpad (olso paper).
Instead of pencil sharpener, I love using my art cutter at all times. Here's my recent work in progress on "Hurt". Before drawing, I got this idea where I walked alone, felt hurt and saw my plants (
euphorvia
) in my garden. You know what, nature and feelings truly inspire me.
Finally, it's done.
I think this drawing looks more different than my previous work on "Loneliness". I really enjoyed doing more elements + details so it was so good to keep improving my drawing skill.
Who's that little naked girl character? Well, that's me. Nah, I won't go naked outside in real life, guys.
Look at the girl character's tummy, that's my two scars (plus I got 3rd small scar on my right lower tummy), which I got operated two times in May 2006.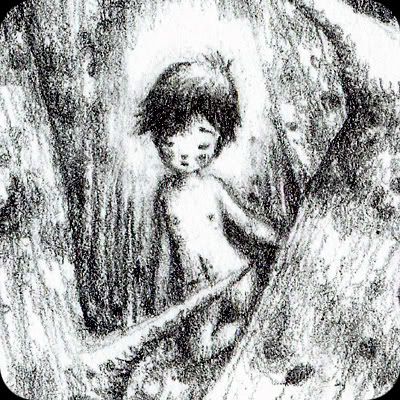 *Mall rubs her poor tummy gently and smiles widely.*
Hmmm, should I create another blog (online self-published) for my art diary? What do you think? Sigh I wish I could have my future picture book.
I think I could continue doing my personal drawings until I die.
I'll post my next drawing on "Confusion" soon.