I give you the reasons why I fainted many times before:
Bullies (I was mocked, attacked and hated by bad kids thru my childhood years 'coz of my hearing deficiency, so I became very hurt before I fainted.)

Accidents (falling/slipping into the stairs & grounds, hitting on the hard wood/wall, etc.)

Strenuous physical exercise (martial arts, running, basketball, hiking, more.)

Health problems (especially my poor belly)

Lack of confidence

Lack of sleep


Nervousness

Depression

Stress

Fear
Hmm, I'm not sure if I can add more reasons because I'm forgetful. Scars? Yep, yep, by fainting, I got few scars on my eyebrow, hands, knees, feet, back, here, here, here, etc. (

*Babu and his kitten Abu poke at Mall's ass*.

) I know, I'm not flawless but eh so what?
Look at this photo of me (Oh that's my real freckles anyway... err, no make-up. I'm a 100% Filipino girl. My grandmother and mama got few freckles too).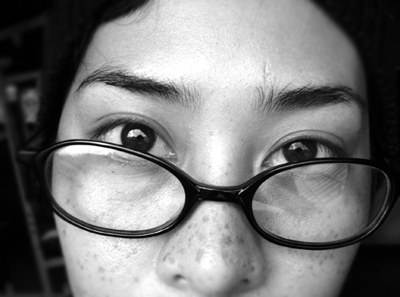 Do you see a small scar on my left eyebrow? Because I hit the wooden chair by accident at the all-girls highschool in 1996. After this, my hyperactive talkative classmate Wendell screamed at me, "

May Ann! Are you okay??!! Look at your eyebrow!

" I said, "

Wendell? Hmm? Why........ blood?

" I felt dizzy a little bit and I touched my eyebrow with flowing blood. Then I was unconscious. My classmates and teacher brought me to the small clinic and called my parents. They put me in
my mama's car and she hurriedly drove me from school to the hospital (wow, she's a fast driver... I mean, racer!). Luckily, my dad stitched it up 'coz he's an ophthalmologist.
All I can say is I should be very, very careful. Hmm, I think I'm a clumpsy girl.
Here's my work in progress on "

Unconsciousness

". I loved to listen to the song "

Svenfn-G-Englar

" (Sleepwalkers)
by Sigur Ros when I worked on this drawing.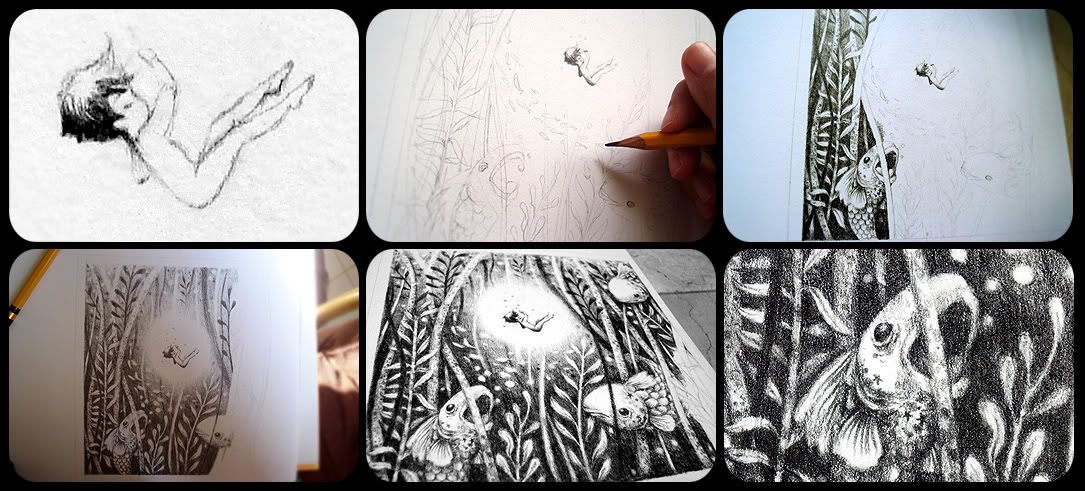 I would like to explain this short description: a little brunette girl falls into the deep dark water when she gets unconscious. Her pale body becomes very calm but it doesn't move. Those soft seaweeds, tiny fishes and bubbles seem very confused and dangerous, which means, she feels very dizzy. Possibly, sharp seaweeds can sometimes cut her skin gently, just like my scars. About the kind big fishes, they notice and help her quickly, it's like, "

Hey let's help her!

" (haha, don't think that they eat her!) These fishes remind me of my kind family, relatives and friends in real life who helped and carried me to the hospital, small clinics and others. I thank God and my family and friends for saving me from all dangers.

Whew, I finished my newest art commission for Rene Enriquez yesterday. I really enjoyed doing more glowing elements / details. Hope he like it.
I have to work now... Hmm wait, I need to eat a slice of my favorite fruit:

PAKWAN!!!

(WATERMELON!!!) Ciao!