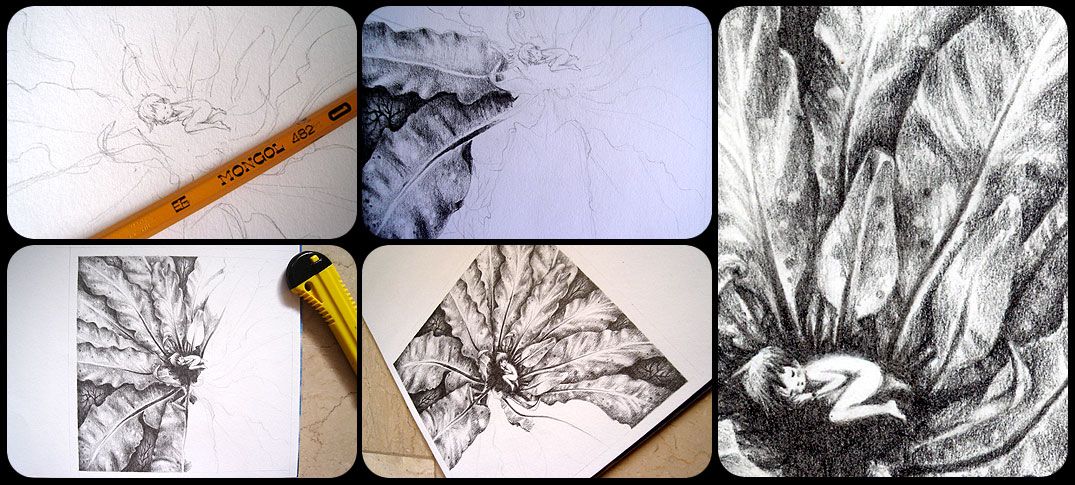 Here's my photo collage of my work in progress (pencil drawing), Exhaustion. I was very exhausted by... well sorry guys, I can't tell, I'm in a bad mood. No need to tell my boring dramatic unhappy bad news. Thank you for understanding me.
Before creating this drawing, I was very inspired by my garden and the wonderful song (
I don't know the title
) by
Sevara Nazarkhan
, one of my favorite unique inspiring female singers. I don't understand her language/lyrics but I'm falling in love with her stunning extraordinary voice. If you want to know more about Sevara, please visit her
site
. Enjoy watching her video.
You know, music always gives me ideas for creating my artworks. I can't live without music. If I don't have any iPod, music CDs, radio and others, I could listen to the sounds of nature, of course. If I can't wear my tiny hearing aid 'coz of empty batteries or damaged something, I love to hear nothing.
Why?
Silence is my inspiration.
Yeah, I was born in silence. I never spoken nor heard from my birth to 6 years old (
I started wearing my hearing aid in Grade 1, my hearing/speaking life became very, very difficult and troubled for past years...
) You know what, I enjoyed drawing/scribbling with my crayons, playing with crazy insects, running and walking alone, climbing trees, eating sweets and hotdogs, etc.
without noises
and troubles
during my quiet toddler years. It's so nostalgic.
Sigh... ppooofffftttt.. I miss my childhood memories.
Anyway, I received more emails today. When I have time, I'll reply to all of you. My relatives are going back to Guam on Thursday, I'll miss them. I need to clean my messy room, try to be completely calm first and refreshed my stupid troubled mind into new one (
I hope, I hope. Thanks to Earl for urging me strongly. I need to stop my depression and doing foolish things like drinking beers, etc.
)
See you in July and send my big hug to all of you. Bye, I have to walk alone.