Hehehehehe.. well, it was just fun to make a fan art when I was sick in January 2008.
Kaonashi
(No Face from
Spirited Away) is one of my favorite cartoon characters by Hayao Miyazaki. No Face is quite adorable, sweet and mysterious, isn't he? I'm sure he will devour me promptly, haha! He's a truly evil creature.


Anyway, I wanna make a full pencil comic about something right now... But I'll save it for later because I should finish my new commission about sci-fi theme first. It's for the
Future Human
, music album cover from Serbia. Here's my rough sketch (character design/study).. ah yes, sting ray starship... oh man, it looks like my sketch has a kind of tomboyish feeling to it, haha. I know, this is my new challenge.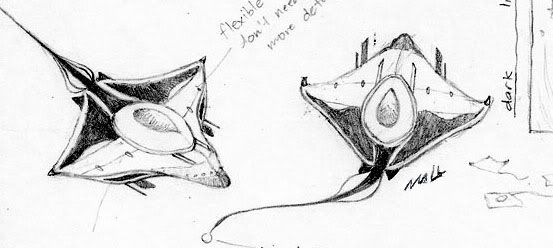 Honestly, I wanted to learn how to draw airplanes, starships, etc., just like Miyazaki's mechanical drawings. When I have time, I would love to practice and learn. Oh, I made another free quick sketch of a dragonfly tattoo for my trusted wonderful friend
Susana. She wanted the dragonfly tattoo of Heath Ledger. He was her biggest crush and idol. Aww. I can't wait to see her real tattoo for her birthday soon. Her twin sister Patricia should have one too. hehehe! Good luck, my lovely twin friends, don't be afraid of those deadly needles, nyahahaha!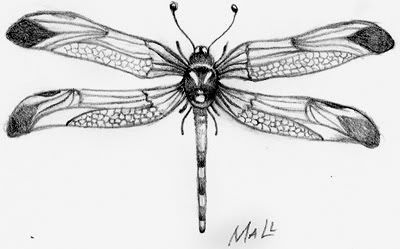 You know what, I would like to share my short story with you guys about my past job (textile designer) in 2003. I made 15-70 designs per day for the pillow cases, napkins, curtains, placemats, table covers, etc. Then I also traced, colored with colored pencils and perforated papers. I drew insects, flowers, animals, patterns, elements, more.. then I chose and fixed the best suitable color palettes of many threads for embroidering designs. Of course, my boss requested me to change and fix them many times. It was so hard and frustrating but I really enjoyed learning many good things. It was so good to develop my art skills. Sorry guys, they kept hundreds of my artworks/sketches in their company, hu hu hu, seriously. I worked as a designer for 6 months, then I resigned it because of the low earnings. They already missed me... awww. I took these few crappy photos of my old works, take a look. Dang, I miss my old works, hu hu. The materials were coupon bonds, colored pencils, tracing papers, pens, colored pens, rulers, perforating machine, reference books, typography books, etc.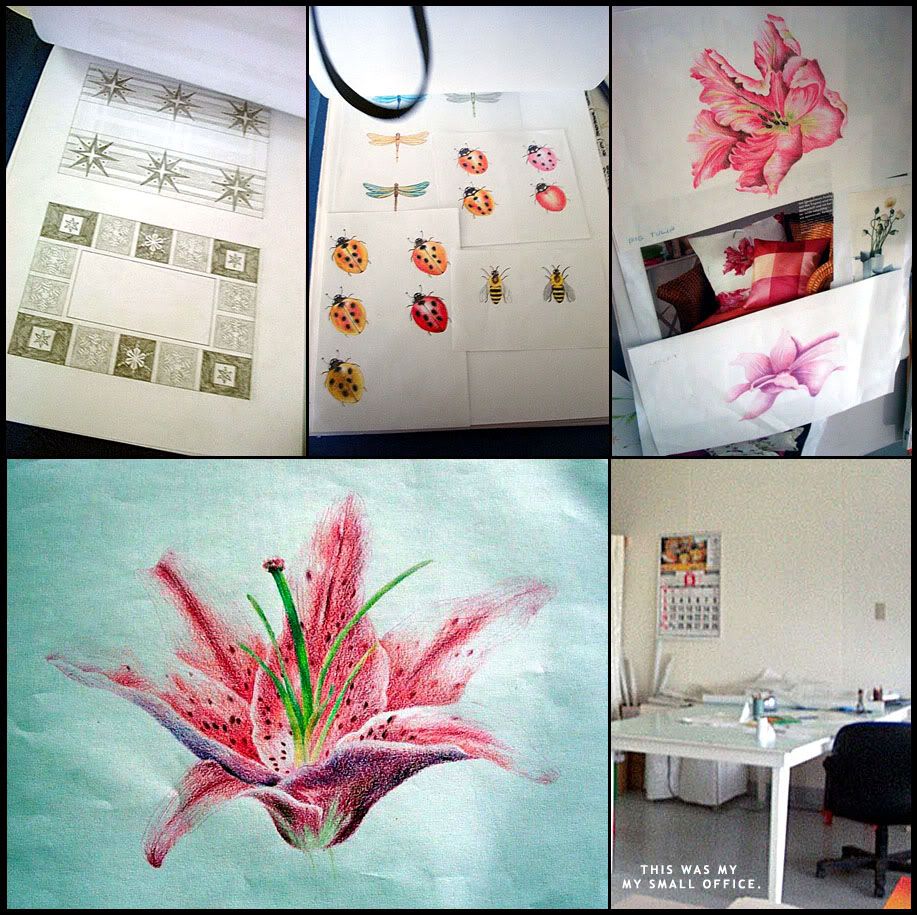 Hehehehe, I seem talkative here. Okay, wish me luck, I'm going to paint the final illustration for the Future Human soon. Goodnight and sweet dreams! *Mall falls asleep and floats away with Nemo into Slumberland....*