I did these 4 wooden paintings for the upcoming 3rd annual charity show,
Power in Numbers 3

at the
Nucleus Gallery

.
"Please join us in a celebration of art and the creative spirit as we gather talent for our 3rd annual benefit art show "Power in Numbers 3"! Our biggest event of the year, Power in Numbers features artists creating 5" x 7" postcard size artwork in any desired medium and themes of their choice. All works will be priced at

$100

and 20% of all artwork sales will go towards a benefit of choice. This year's benefit of choice is the
Make-A-Wish foundation."



ARTISTS:


Aaron Kraten / Adrian Johnson / Alan Beadle / Albert Chow / Alex Fuentes / Alex Kirwan / Allan Deas / Amy Ortiz / Andrea Innocent / Andrea Offerman / Andrew Bell / Anna Chambers / Anna Woltz / Autumn Turkel / Blinky / Brian Holderman / Brian Yam / Brianne Drouhard / Candybird / CARO / Catherine Kim / Chet Zar / Chris Rafferty / Chris Ryniak / Christian Rex Van Minnen / Clio Chiang / Craig Mackay / Cristina Paulos / Dan Krall / Dan Santat / Daniel Lim / Danni Shinya Luo / Daphne Yap / Debbie Huey / DELI / Denise Chavez / Edel Rodriguez / Edwin Ushiro / Emma Goo / Eric Mitzel / Greg Storey / Heather Chavez / Heiko Windisch / idrewhim / lsrael Sanchez / Jason Limon / Jay Horinouchi / Jeff Turley / Josh Taylor / Joshua Witten / Julie Nishioka / Justin Ridge / Karyn Raz / Kristian Olson / Lesley Reppeteaux / Luke Feldman / Margueritte Sauvage / Mari Inukai / Mari-chan / Maria Go / Martin Hsu / Mary J. Hoffman / Matt Spangler / May Ann Licudine / Mette Glyholt / Michael Slack / Nate Wragg / Neil Babra / Neil Doshi / Nicolette Davenport / Owlo / Patrick Hammerlein / Peter Vattanatham & Fiel Valdez / Pietari Posti / Scott Morse / Shadi Muklashy / Stefanie Choi / Susie Ghahremani / T&A / Tanya Philpott / Valerie Fletcher / Veronica Hebard / Wilson Hsu

Wish me luck, hope they will like my small pieces! (Sorry guys, I can't attend the US annual show because I'm still here in Philippines. I know, it's so shameful. Forgive me! Maybe in time...) I'll post my full scanned paintings on April.


You know what, I walked in my garden and saw my silly weird sleepy puppy (half rottweiler and half german shepherd). I laughed out loud when I took my cellphone pic of him! Take a look! Nyak nyak nyak hahahahahahaha! Isn't it sweet and cool, it is???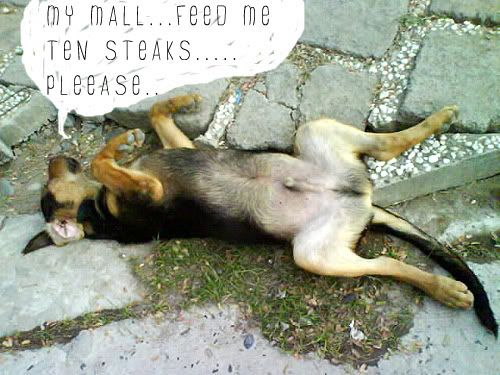 Anyway, I'll make rough sketches / final illustration for my new commission about the music cover soon. Goodnight and sweet dreams!