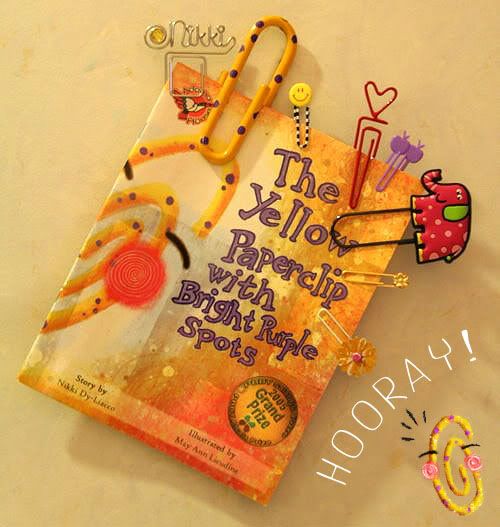 Remember about my first children's book, The Yellow Paperclip with Bright Purple Spots?
I visited my wonderful talented witty intelligent friend Nikki's blog today. She said:
I spent an hour or so browsing around Fully Booked yesterday. Whenever I am at a bookstore, I can't help but check if they have still have copies of

The Yellow Paperclip with Bright Purple Spots.

(When they don't, I make sure I text or call Adarna House. Hee-hee. It's the marketing person in me.) I was happy to find one of those revolving Adarna book displays with four copies of my book on display. I noticed that the colors of the cover seemed a little different so I picked one up and checked the pages too... and guess what I just found out? We're on our third printing!

As always, I am thankful. It's not actually third time "lucky" - more like third time

BLESSED

. We're on our third year and I'm thrilled that the book continues to sell.
Our first and second printings were sold... But now... my gosh... Third printing again? I'm crying now. I can't believe how much Nikki and I are so blessed!!! Indeed, we are thrilled that our book continues to sell!!!!!!!!!
If you don't know about this book, here's a synopsis:
Follow the adventure of the Yellow Paperclip with Bright Purple Spots as it makes friends, learns new things, and travels to different places. You will discover why it feels unique and a little out-of-place in a world of silver paperclips.



2005 PBBY - Salanga Grand Prize Winner
2005 PBBY - Alcala Grand Prize Winner
2006 National Book Award, Best Children's Book

Language: English
Author: Nikki Dy-Liacco
Illustrator: May Ann Licudine
If you're interested with this, please order this in the Adarna House Publishing, it's only for US$1.50, paperback.


OHHH, MAMA MIAAAA! HOORAY!!!


*Let's dance together!!! weeee!!!*