Do you know why Filipinos are naturally funny and hilarious? My sister Erica showed me this crazy video from Momoypalaboy. I kept smiling and laughing when I watched it. They are MoyMoy and Palaboy. And no, they are not GAY, but natural comedians! I think they are real brothers. I love their amazing face expressions. I really hope they can make more funnier videos. Enjoy watching their famous video "Wannabe", guys!
Oh! Another video "YouTube Drama" from my friend Kuya Gerry, I can't stop laughing! HAHAHA! I can't believe Kuya Gerry got naked! He's an excellent actor and director!
Apart from that, I'd love to share my friend Bjornik's SALE art pieces with you guys. His medium is A3 size pen & ink with framed, entitled "Checkmate + +". I'm lovin' his great pen skills! Curious to know the prices and see high resolution images? Please email Bjornik at
bjornbhorgz@yahoo.com
and call him +639063151616. Hurry up, buy his works now!
from top left clockwise: King, Bishop, Pawn at Knight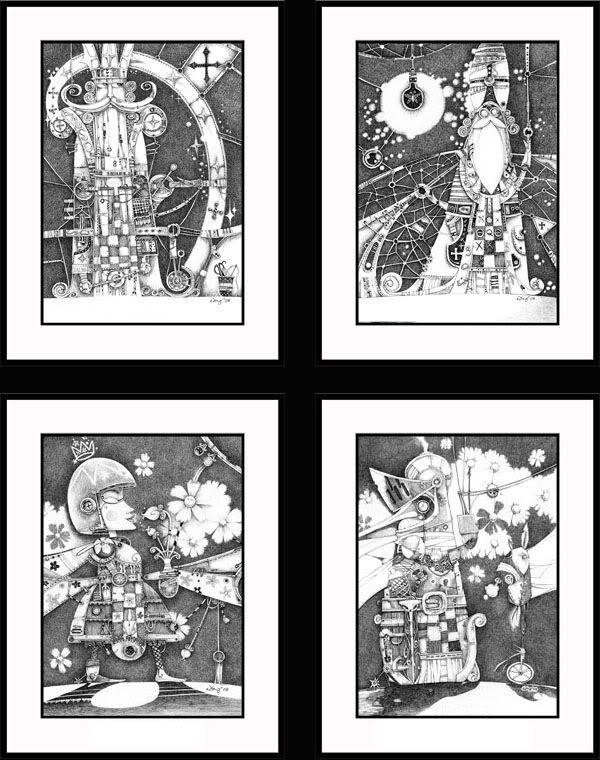 Brrr, it's already cold and rainy here 'coz of another typhoon "Helen". We got small floods here, eeepp... By the way, my tarantula commission for Cristina is nearly finished. I might post it next week, hopefully. I can't wait to meet Cristina in person at Baguio City soon. Okay, I need to keep away from the internet for a few days 'coz I should finish on my commissions first! In my previous blog entry, I'll reply to you guys when I'll be back.


Happy Birthday to my brother Jeremy! MWAH!
See you guys!
♥ ♥ ♥ ♥
♥ ♥