Hello guys! I'm so sorry for not being active on internet. My crappy old DSL net keeps getting booted during heavy rains. Hopefully we will get a new broadband soon.

I warn you guys about the rippers. My friend
Anne-Julie Aubry
contacted me that PAK GREEN stole one of my illustrations and her illustrations too for their T-shirts. Anne-Julie said Tuktukshop store on DaWanda (and also in their local store in France) told her that these tees are mass produced in Thailand and are sold from a designer named PAK GREEN. I took screenshots so check them out. Actually, they have removed their tees on site already.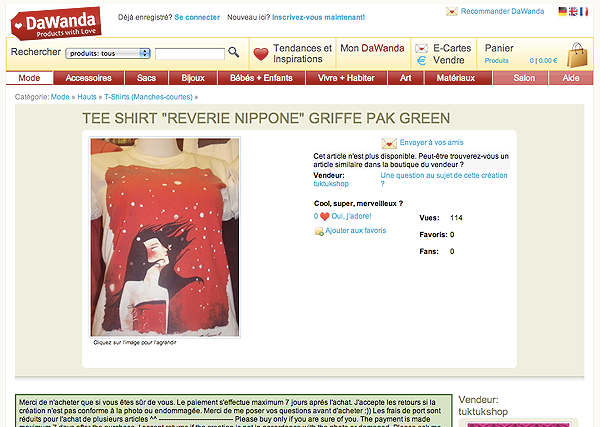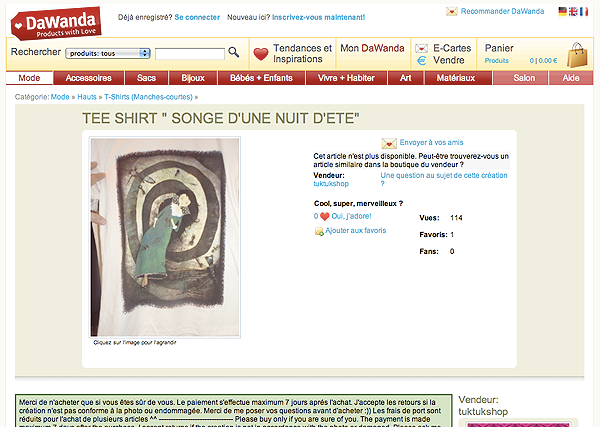 I don't remember the artist's name but I know this famous art.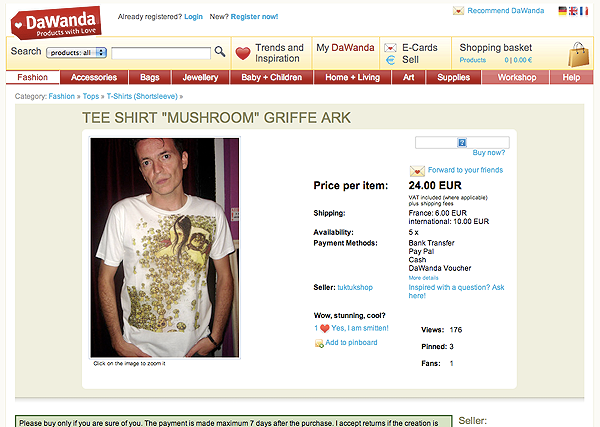 If anyone knows PAK GREEN, please contact me and Anne-Julie. I hate the way how PAK GREEN does like that e.g. using our arts without permission, making mass production, etc. But not only PAK GREEN, i can sense that there are more "hidden" merchandising places... please let me know if you see one of my illustrations on any products like tees, bags, etc. anywhere especially local stores.
In fact, my friend
Mark Salvatus
went to Bangkok where he had group exhibit last year. He asked me if I was collaborating with Bangkok people about the art business. I said no. He said that he saw my illustrations (buttons / badges, etc.) at the small merchandising store. He didn't take pics of those products 'coz they said "no pictures, please". He also asked them if they could have their site so they said no. They seemed very tricky. Tsk tsk, those people have no heart, I mean, they are totally bad. In time, if Mark could go to Bangkok again, he will investigate them. Sigh... aarRRRGGGH!
Apart from that, I have finished my 8 artworks (colored ones and vintage-style graphite ones) for the next art group show "Tree House" in
Nucleus Gallery
. My gosh, I can't believe that my friend
Raquel Aparicio
also participates too, high five sweetie! I'm super thrilled that
Chris Appelhans
,
Tadahiro Uesugi,
 Sun Young Yoo,

Yoko Tanji

and
Veronique Joffre
are also going to be in the same show! Eeee, they are perfectly suitable for the Tree House show! 
I'll ship my parcel to them soon. Unfortunately, I cancelled to visit USA in July 2009 (sorry Nucleus Gallery and my friends but I love you all hehehe). Hopefully, we might travel to USA in time *please cross fingers*. I'll post my artworks on my blog in August, you guys need to be patient, hehe. 
Anyway, I'll be away from the internet and art commissions / projects. I want to regain my strength, renew my mind, take more rest, talk to my plants / little creatures in my garden, find a pure happiness / peace and solve my complex family problems, hopefully. I miss you all. Good day to all of you, good night to me! *Mall jumps on a fluffy soft cloud and flies to Slumberland* ZZZzzzzZZzzzz..... . . . .