Yey, my past works "Cat Guardian" and "Confusion" got featured for the Reader Art on Juxtapoz. Thank you very much, Ert O'Hara. Anyway, I did my pencil work on wood (7.6" x 14.2"), Cat Guardian II in May 2007. I changed her old looks into new one. I copied my real eye shape into this girl character's eyes so I loved it. Please click this big close-up photo collage to full view.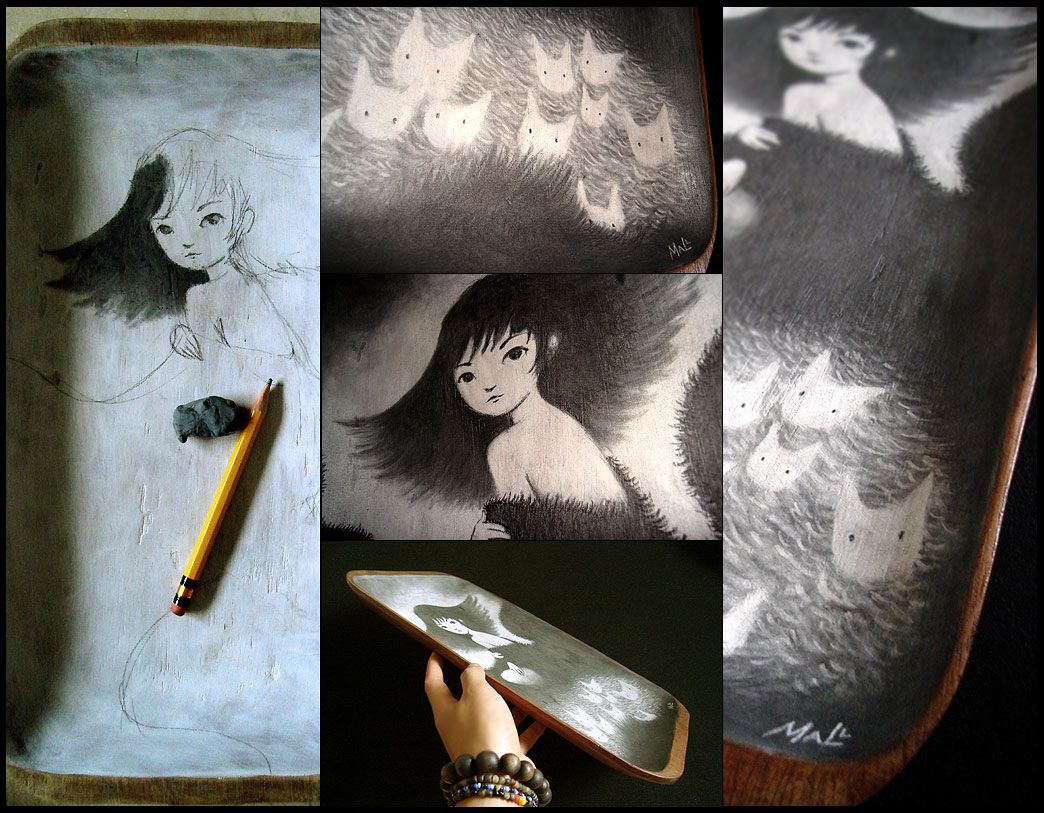 Sorry, I haven't made my story about this yet. But it's so fun to make different styles of

Cat Guardian

. I was very inspired by heroines. Just like my favorite animator / director Hayao Miyazaki, who made his female characters as leads (Princess Mononoke, Spirited Away,
Nausicaä of the Valley of the Wind). Dang, I wish I seriously could work with Hayao! If I ever meet him in person, I could pee in my pants. BWAHAHAHAHA!
This is my wish!
Nyahahahaha! Okay, I better stop laughing now.


Hurry up, my fellow cat lovers,

this is for sale!

(plus FedEx shipping fees, it depends on weight and location). Email me if you're interested. Hope you like it! Ready? On your mark, get set.....

BUY

! Next time, I might make another work for

Cat Guardian III

.


Now I'm working on my unfinished wooden painting (work in progress),

Babu's Ride

. I portrayed my trusted siberian tiger plushie, Shardul.
See you in August. Puuurrrmeeoowwwwrrrrrr! Roar!